Toddlers (Ages 18 months-3)
The preparation class is for children who are 18 months to three years old. We are thrilled to offer this age range as it allows even our little ones to experience a true leadership cycle. The younger ones looking up to and learning from those who have developed some skills they are wanting to model and the older ones leading by example with care and concern. The environment is specifically designed for the children to learn independence skills.
Teachers nurture the needs of children by working on these goals: stress free transitions from home to school, learning to be productive through independent work and working with others, discovering self care and care of the environment, experiencing music, stories, nature study, art, and fostering both large and small muscle development. The children do not need to be potty trained to enter this program.
(Ages 3 thru 6)
Preschool.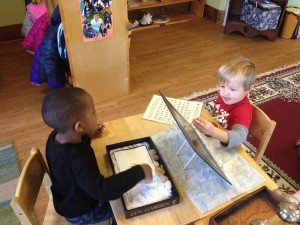 One of the greatest benefits of the Primary classrooms is the multi-age environment, which allows for children to learn from one another and to learn at their own pace. The morning work cycle consists of lessons with special Montessori materials. Areas of the curriculum include: practical life, sensorial, language arts, math, science, geography, art and music. In addition to the individual work time, each day includes group activities for discussions, music, art, stories, and outdoor play. Two Primary preschool classrooms are currently available.
Kindergarten.
Those who complete the 3rd year of the primary program are in their kindergarten year. This is a very special time for students to become the leaders in their classroom and is the capstone of their Montessori Primary learning. Children continue to absorb a great deal of material and fine-tune their skills by teaching lessons to the younger children. These older students extend their time with their Montessori teacher to enrich their experiences in skill development and special projects.