Toddlers (Ages 18 months-3)
I am little, and I go to SCHOOL. At my school I am busy all day except for nap time, when I rest after I eat my lunch.
Everyday, I love to learn. I'm actually a genius – all of us toddlers are. Our brains are growing at such an enormous rate- don't be jealous. Our class is full of really interesting and beautiful things. My teachers show me how to do things in our class and then I get to practice over and over again.
No one rushes me. This helps my brain make important connections, while I learn how to really focus and concentrate. I love to hear my teachers and older friends say new words and to hear how they sound coming from my mouth.
I get to do things for myself – I wash my hands, open my lunch, and learn how to put on my shoes. My favorite words are, "Let me do it." If I need help I have a really nice teacher who shows me all the steps of how to do it, and then I learn to do it myself.
I've heard some people say, "these are the terrible two's." Well, you might think that as well if people didn't understand what you were trying to say. We are still are growing up and learning how your bodies work. It can be a bit overwhelming. But I am so thankful because my teachers understand me. They help me find my words, they let me try hard things, and tell me all the steps. They let me work on something over and over again, or try something new right away. They understand me and that means so much to me.
Guess what!, I'm learning to be a potty expert. We call it becoming an expert because there are many little and big things to figure out. I struggle sometimes, but my teachers reminds me that it is ok because we are all learning and I love to learn.
We sing a lot of songs in my class, I like the songs we learn in Spanish class too, and I love the ones about Jesus and how much he loves me.
Some of my favorite things to do at school are the works in the class, stories we hear, looking at picture books, coloring, crafts and painting. I like to pick the color apron I want to put on for painting time.
Outside time- Yaaay! I love running, playing with friends, and finding critters to watch. We found a moth the other day and we named it Marshmallow. He would land on our arm and stay there!
We have 18 month olds and 3 year olds in our class, for us kids, that's a big difference. That means when we are little we have kids we can look up to that help us understand how to do more because we can watch what they do. It also means when we are older, we can help others. Even little kids can be helpful. If I learn to be helpful now, it makes me feel good about myself and creates a habit. I really love to help people.
I also really love to meet new friends, so I hope you come to visit our school.
Primary. (Ages 3 thru 6)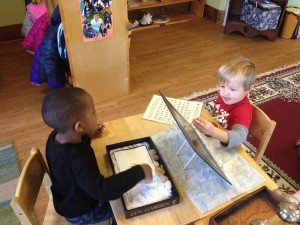 Everyday is special, because I get to explore and make my own discoveries! I have been in this class for 3 years – wow – half my life! I have known my teachers and most of my friends in my class all that time. When I was just 3 years old, I thought this was the biggest room ever!
There were just so many interesting things to do and so much to learn. I would spend a lot of time watching the older kids do works that I never thought I could do – there were so many steps to learn. I could watch them, and watch them, and watch them – it just amazed me. But I have to admit, my favorite thing to do was the work we call practical life. They are just so cool. Those works calmed me down, every time. They helped me focus and think about starting those steps one at a time. I also had to learn to express myself. I had to learn how to tell kids older than me what I needed and wanted and they listened. It didn't matter that I was younger than them, they respected me because I am made in the image of God, just like them.
When I was 4 years old, I started noticing a lot more works in the class, especially the math and language works that seemed so hard before. As I watched others and as my teacher gave lessons to just me or a few of us at a time, the lines and circles started to make sense. I was really happy because I could see the progress I was making. The work on the shelf is in order and I knew as I worked along the shelf how much I had mastered of each skill.
I loved to finish a work and ask my teacher for another lesson. I felt really accomplished. I also know that each person in my class is different, so my friends and I will not do the work at the same pace and that is ok. God made each of us different. No two people are the same, even the twins in my class are not the same. We honor everyone.
Kindergarten. Now I am a BIG KINDERGARTENER! You have no idea how huge this is – this is the best thing ever. I am a true leader. I have worked in this class and learned the ins and outs of how it runs. I love my teacher for sure, but to tell you the truth – we could run this thing! – That is what Maria Montessori said was the sign of a great class. This is the year all the pieces come together. I watch the younger students come in and I help them understand how the class works. Sometimes they need encouragement or reminders of how we treat each other and the materials in the classroom. My teacher depends on me a lot to be an example. Instead of taking a nap, I get to do kindergarten work that is super challenging. I am so proud when I finish a big work- I could just burst! I heard my mom and dad say there is no other school around where I would get that kind of experience.
Now, I want to be honest with you. I make it sound like everything is perfect. It's not. Some days are hard because life can be hard. Some days I have to learn how to be a better friend or I get frustrated with myself because I want to learn something faster than my brain will let me. Those are the times I really do need my teachers and my friends. They remind me that it's ok not to be perfect, we just want to get better and do our best. I have a lot of good friends in my class, friends I have known a long time and I know they care about me, and my very best friend is Jesus. He teaches me how to be a good friend to others when they have rough days.
So I was telling you the truth when I said, "Everyday is special and so am I." Don't you wish you went to a school like mine?